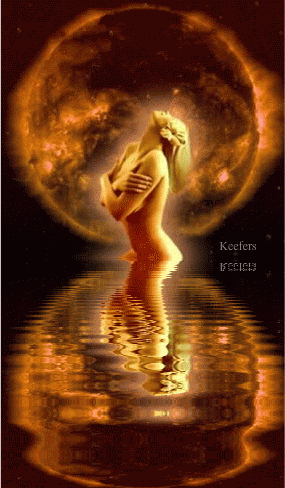 The cool thing about Keefer, he/she/it shares!
My other blog is so eclectic. I have all sorts of things on it from heavy metal to Bach and noisy. Not to mention bizarre stuff I find on the Internet. I call it "
Bluezy's Virtual Dumpster Dive
" because I pick out of the Virtual Dumpster I call the Internet things that a tattooed 53 yr old woman who spent most of her life in the counterculture would like and I use a foul word here and there.
I decided that this blog will not be a carbon copy of "'Bluezy's" (I play the blues harp since 1975). I took on the handle back in 2001 from formerly the one and only "Princess PMS". I have been online since 1985. Back then, I was calling long distance BBS's (Bulletin Board Services) under that handle and playing "Space Empire Elite", a strategic planetary conquest text game. I chose Princess PMS because when my forces would attack a planet, the other users would get a message saying,
"Princess PMS has conquered two of your planets, etc".
It was a game only on Atari Bulletin Boards, yeah and I had the Atari computer all the way up to their 1K of ram and a 20MB hard drive and a 300 and graduating to a 1200 baud modem. I am sure some of the "old school" dieters remember those days before the world wide web.
So another holiday and wow all about ME-MOM. My daughter is also a MOM, and of course human nature is to be festive with food! I did OK. Little more carbs, but not over my initial "no more than 50" rule.
I tried not to boast of my initial loss (which I
sneak peeked
my current weight before my April 11 scheduled). Gotta say,
I am quite happy
with what the scale said, but will reveal it on my weigh day. Only peeked because daughter has been doing the same as I have since the Intermittent Fasting Pilate low carb decision and has lost 8 pounds in 5 days.
So of course, we were the toast of the barbecue. Now we have an entourage of two more friends who are big AND TALL women wanting to join in! I mean my daughters friend is 33 and 6 ft 2 and her niece is 26 and 6 ft. So we have these Amazons beauties on our side, too!
We are telling ourselves that we are gonna be an Internet Sensation! Like all the Blog dieters that I have been following and reading! Thank you for sharing so that we can see the results and read of your journeys. I especially am thankful for
Jack Sh*t
of whom I found via the above "next blog" tab (yep!) and
266
whose progression photos and this video link were so drastic from 266 to 140! I ran into them months ago and kept thinking 266 and Jack did it, I need to do it and blogging might just do it for me. Unfortunately by the time I got back to 266, she had suffered a tragic personal setback that made me and her followers literally cry. And Princess Dieter for translating her diet speech that post
[here]
and her photos and joy of spirit. *Please note that 266 and Princess Dieter are having some personal issues that could use a spiritual thought and consideration. Please go there and keep them in your hearts and prayers.
The best present (besides a new outfit that my daughters friend who has adopted me as MOM and vice versa got me) was to be told "you look like you lost some weight"!